Going in to the last weekend of regular season basketball, The Stanford Women's Basketball team controlled their own destiny. They had two games left on the road in Oregon (or as my sister-in-law likes to say, Or-E-gone). A win against the Oregon State Beavers in the second-to-last game would guarantee them first place in the Pac-12 league, a shiny trophy and the number one seed in the Pac-12 tournament, where winner gets an automatic bid to the NCAA tourney. You couldn't write a more perfect script.
Except Stanford forgot to study the script. They came out against the Beavs flat, and did not look like a team fired up to win a championship. Give OSU some credit for having lock down defense, and a scorer named Sidney Wiese, and Stanford could not get anything going offensively. OSU shut down Stanford's three-point specialist Karlie Samuelson, as well as the rest of the team from behind the arc, and with no made threes, (0-8) and only 47 total points on offense, they did not look like a championship team. They did hold OSU to 50 points, but losing 50-47 hurts. Probably the biggest differentiator was rebounding, in that Stanford forgot how. They box score says it was OSU 47 to Stanford's 37, but it seemed a lot more lopsided than that, nothing more frustrating as a series for OSU with FIVE O boards!
Still, Stanford could have won the regular season if Cal beat Oregon State and Stanford closed out the season with a win against the Oregon Ducks. Stanford did bounce back to get the win at Oregon, 65-59, but they still did not look like a championship caliber team. Cal, the one time we rooted for them, lost. Still, you can't place your destiny in someone else's hands, as more often than not you will come up short, as Stanford did.
Special shout outs to seniors Karlie with 18 against the Ducks, Erica McCall with a double double (16 points, 14 boards) and Stanford's favorite beach player as of late, Alanna Smith with 14.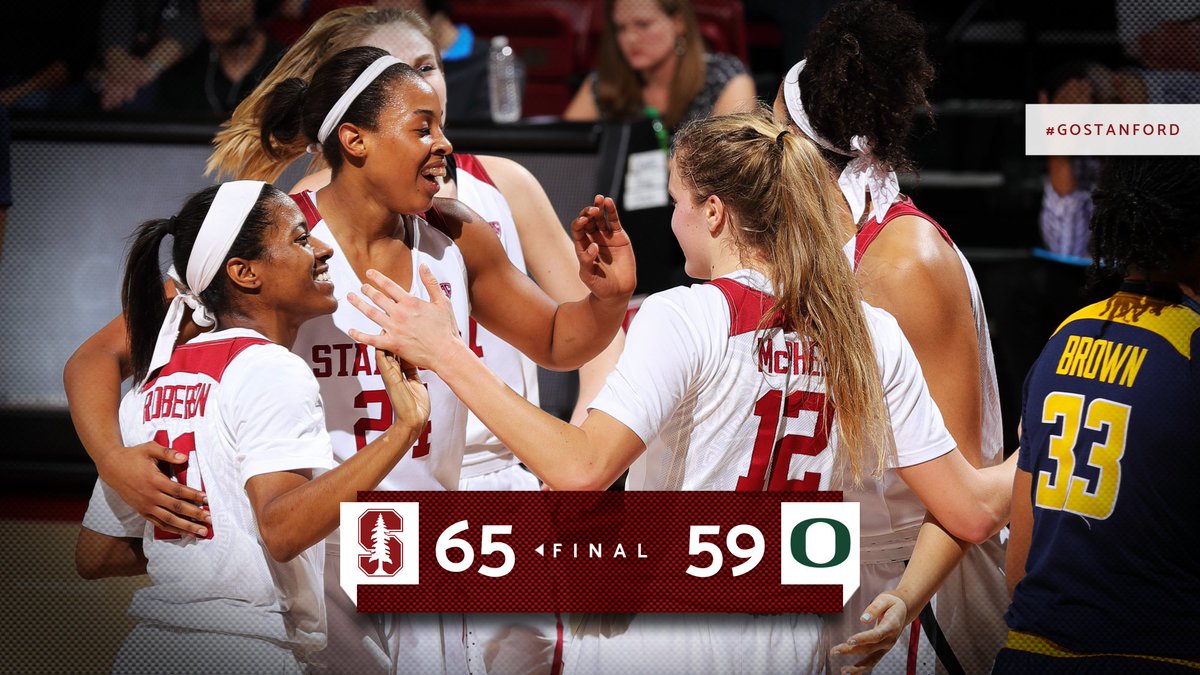 Stanford beats Oregon, ties for 2nd place in Pac-12.
Photo courtesy of Stanford WBB.
So Oregon won the Pac-12 regular season title with a 16-2 record, and Stanford tied with Washington for second with identical 15-3 records. Stanford gets the number two seed at the upcoming Pac-12 tournament, due to a tie breaker that C and R can't figure out. Point difference in the two games vs Washington, maybe?
So, to recap, Stanford gets a first-round bye for the
Pac-12 tournament
in Seattle March 2-5 and will play the winner of No. 7 Washington State and No. 10 Colorado on Friday at 6 PM. Tune on to all the games, as you will witness history every time Washington's Kelsey Plum scores. She just broke the career points scored for D1 women's hoops, needing 54 points in the next few games. She decided to just get it out of the way and scored 57 in one game. So any more points she scores is gravy.
Once again, Stanford controls its own destiny with the start of this tournament. Run the table, win three games in a row this weekend, and they still get the shiny trophy and the Pac-12 tournament champions moniker, and most importantly, the automatic bid to the NCAA tournament.
More Stanford Goodies at the original
C and R's Stanford Women's Basketball Blog.
Follow C and R on
Facebook
and
Twitter
, too!
---